Student Spotlight - Vicki Morrison
"The instructors have a wealth of experience within the industry and it's great to be able to soak up some of their knowledge. I'm now more competent at facial animation and adding personality to my characters"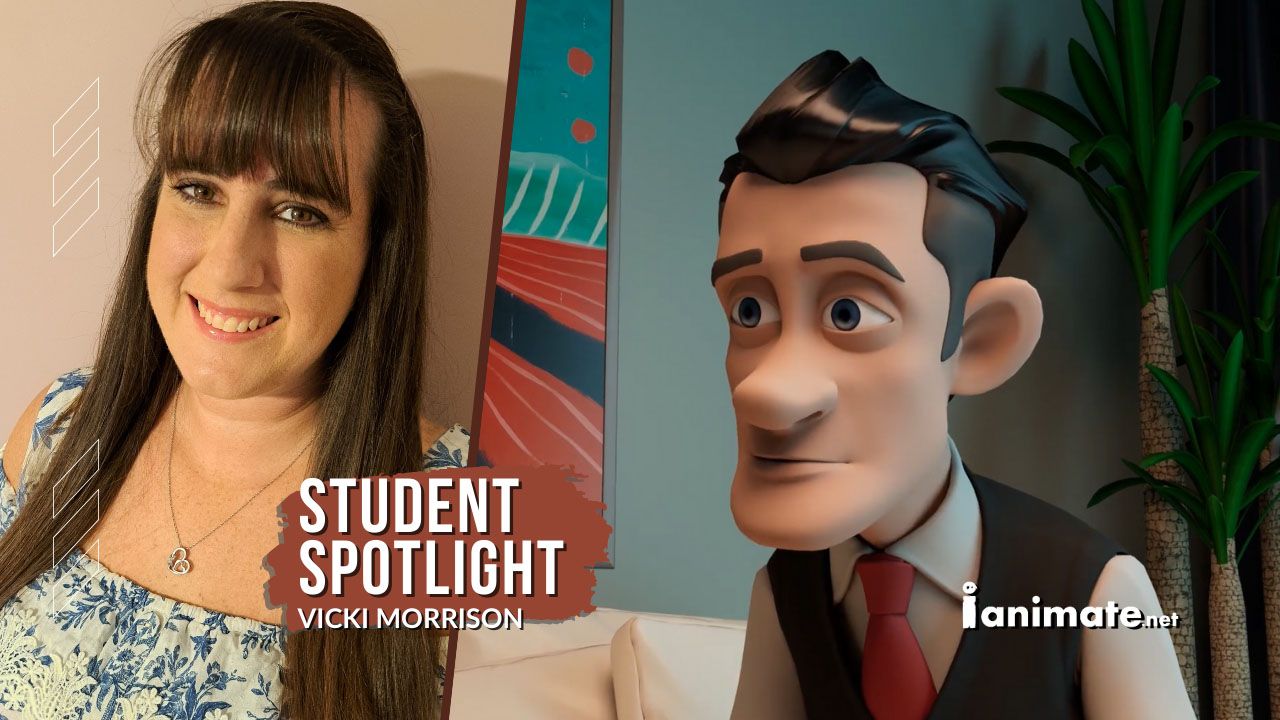 Student Spotlight features Vicki Morrison, a CG generalist from England, specializing in character animation. Vicki has a Masters Degree in Animation for film and games from Liverpool John Moores University and a 2:1 BA Hons Degree in Animation from Staffordshire University. Vicki is also working her way through the iAnimate Workshops for Feature, the next workshop that she will be doing is Workshop 5.
Vicki is currently working at MGF as a 3D Animator & Visualiser doing everything from Pre-Production to Post Production requiring her to Model, Texture, Rig, Animate, Light, Render, and Edit. Vicki has worked as a CG Generalist (specializing in Animation) for various companies.
After completing her Masters degree in animation for film and games and having various jobs as a CG generalist mainly in the construction training video industry, she wanted to take her animation skills to the next level and specialize in character animation, because that's what she loves and enjoys the most. So she has been taking the workshops in my spare time whilst working as a CG generalist at a construction company animating training videos.
Student Animation Journey
Vicki Morrison took the following Feature Animation Workshops at iAnimate:
The iAnimate program offers students the opportunity to demonstrate the skills they have acquired through the workshops they have completed. These workshops teach the workflow commonly used by professional animators in the industry and provide students with the tools to develop their own unique shots. As an example, here is Vicki's detailed animation process:
After receiving the brief, I play around with various ideas until I have my top three. From there I create three pitches which include a little bit about the character I will be using and a synopsis, along with any research, sound files, thumbnails, and videos I have to talk about when pitching them. Once in class, we choose the best one to move forward with.
I then draw the key poses for blocking over the top of any reference video (making sure the video clips I will be using are 24fps).
I reference in the rig to Maya, making sure to check the characters' rig space and rotations, import my sound clip to the timeline, and import my reference video into Maya, this way I can see the key poses I will be starting off with.
I set up the environment with any props that will be used in the scene, along with the camera (making sure to lock the camera so I don't move it by accident when animating).
I set up any shelves I will be using for the character, if they haven't been done already, making sure that the shelf is connected to the rig and ready to be animated. Now I am ready to block out the key poses, usually around 6 poses, two at the beginning, two in the middle, and two at the end.
Once my instructor is happy I'm on the right track to carry on, I go on to do the extremes, working pose to pose, making sure that I get any key storytelling keyed in the places I want them, all the time working in stepped tangents. Then I add breakdowns, making sure to key about every 4-8 frames. From here I work with 25 frames or so and work on this in linear, then I do the next 25 frames, and so on.
Until I am ready to move on to smooth out the tangents. After we're happy with the character animation, I can now move on to animating any facial movement and lip sync the character might have (first in step, then linear, and then smooth).
Next comes any secondary action such as hair and then finally I go on polish.
"It's unbelievable how much I have learned at iAnimate. With doing a BA Hons in Animation and a Masters in Animation for Film and games, before signing up for iAnimate I wasn't sure how much I would get from it. But I didn't realize how little I knew about character animation until doing these workshops. Everything from composition to eye darts! The instructors have a wealth of experience within the industry and it's great to be able to soak up some of their knowledge. I'm now more competent at facial animation and adding personality to my characters. My favorite assignment was animating a girl dancing in her room (which I have included in my showreel) as I feel this was the turning point where things started to click with me." Vicki said what she learned from iAnimate.
Student Spotlight Q&A with Vicki Morrison
iAnimate: What do you think of your Online Animation Instructor(s), and how do they help you?
Vicki: The two instructors I've had at iAnimate (Alexis and Angie) certainly know their stuff. I had Alexis for my first workshop (feature workshop 2) he is very friendly and will go into your scene to show you how you can improve your work, concentrating on refining the finer details of your curves. I've had Angie for two workshops and she is very easy to talk to and can't do enough to help you, if she feels she has more feedback to give you even though the session has ended, she will spend the extra time with you, which is invaluable. Her lectures are very interesting and packed full of golden information.
iAnimate: How did iAnimate help you to evolve your animation skills as a character animator?
Vicki: iAnimate taught me how important reference is. Doing these workshops have helped me to realize how important the little details are in making a big difference, making sure to check the eye line isn't that millimeter off target or making sure that if everything was a silhouette, would you still be able to still figure out what is going on.
iAnimate: What kind of animator do you consider after taking your student workshop(s)?
Vicki: I now consider myself a character animator and looking at the animation projects I have produced on my iAnimate course, they are up to industry standard at entry level.
iAnimate: What kind of project do you want to work on?
Vicki: I remember going to the cinema to watch the first Toy Story and was blown away with how life-like those toys were and knew I needed to be involved in making a film like this possible, so It would be great to one day have the chance to work on a feature film to inspire others like the animators of Toy Story did with me.
Want to learn what Disney, Pixar, and Blizzard do in their animations?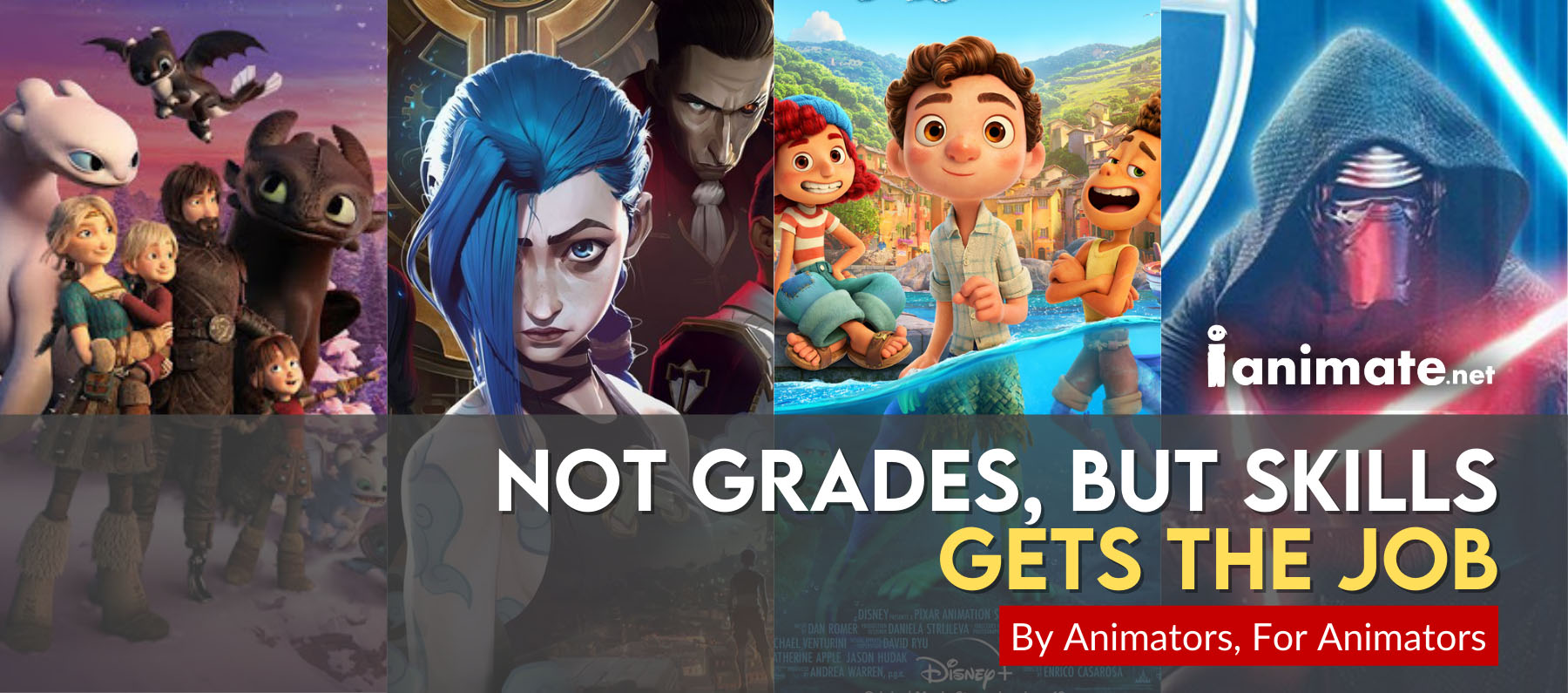 Be mentored by industry professionals from the leading studios in the industry. Start your animation career and get the dream animation job you want! Learn more about iAnimate and the Workshops that are made just for you.