Pre-Visualization Workshop
The filmmaking process of pre-visualization is an essential tool that seeks to resolve both creative and production issues, and helps to tell a story economically while maximizing visual scale. 3D previsualization requires a wide range of software skills and a solid understanding of filmmaking craft. During this 11 week course students will learn the filmmaking practices of cinematic staging and composition, and the iterative steps to create and complete their own pre-visualized sequence in Maya.
11 week access to:
Live & Recorded Classes

Extra Lectures by Jason Ryan, Director at CineSite.

Additional recorded lectures on Modeling, Lighting, and more.

Feature Rigs
​Who you learn from Matters

---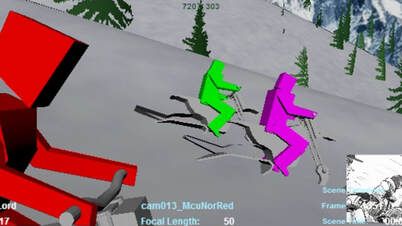 What to expect in this Workshop
The 11 week course, specially designed for iAnimate, will teach students the fundamentals of staging, pacing, layout, camera and scene setup. The objective is to get the students comfortable and confident with translating pre-established storyboards into a working, coherent 3D sequence.
Week-by-Week Topic
Week 1 - Introduction to Pre-visualization (Previs)
Week 2 - Set Up & Work Flow
Week 3 - Constraints
Week 4 - Animation in Previs vs. Final Animation
Week 5 - Camera Theory Part 1 - "I'm sorry Smokey, you were over the line…"
Week 6 - Camera Theory Part 2 - Which Way Did He Go?
Week 7 - Camera Theory Part 3 - Story and Emotion
Week 8 - Lighting & Rendering
Week 9 - FX. Editing, & Timing
Week 10 - Camera Polish & Finalling
Week 11 - Review & Reels