Student Spotlight - Tsion Addisu
"I have learned at iAnimate that I can course-correct my animated shots to express bigger emotions and movement in the characters."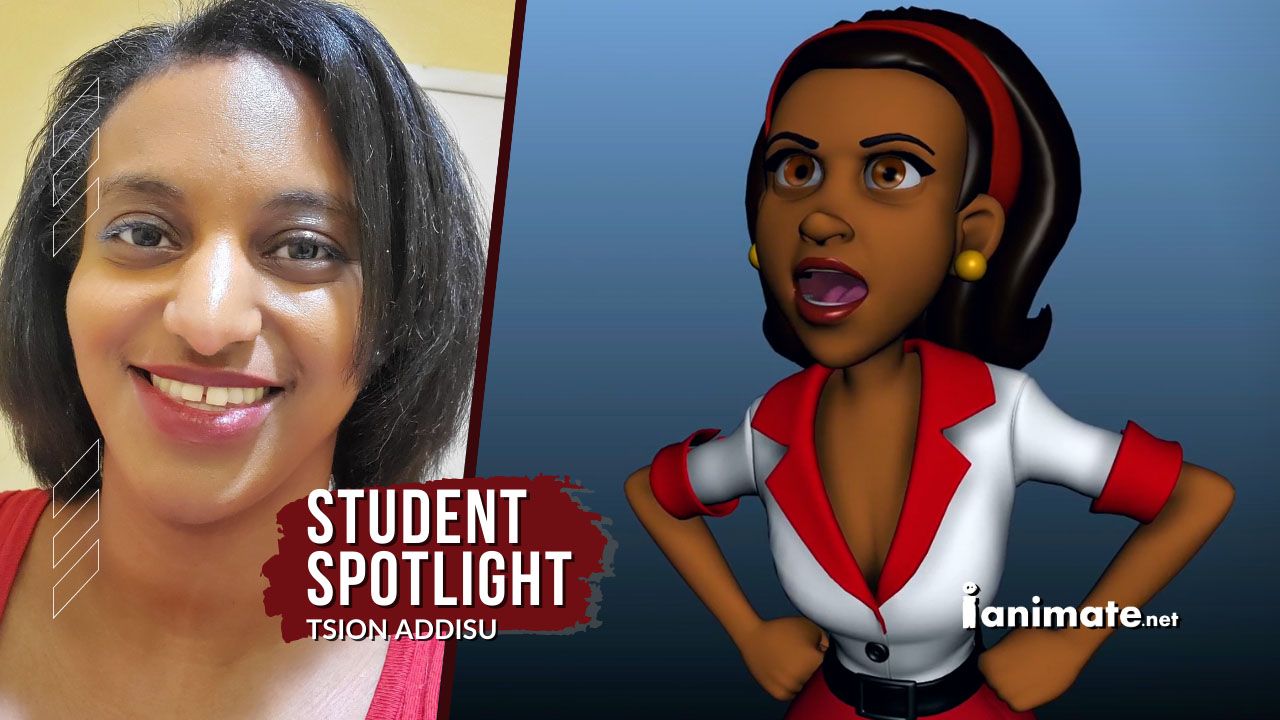 Student Spotlight features Tsion Addisu, an animator and experienced Traditional Artist. She graduated from engineering and pursued her passion for animation. Tsion is a software engineer who is pursuing to enter the world of animation. She has always had an interest in character animation and design. Tsion comes from an artistic background as well, drawing characters and people in both traditional and digital mediums as a hobby. She has taken some fine arts classes as well as Maya classes in 3D animation & modeling at my local community college prior to attending iAnimate.
Tsion has been drawing since she was a child, and she has always been in awe of the idea of bringing characters to life. Although she went into the software engineering field, that dream of becoming an animator has always been in the back of her mind. One of her college professors recommended iAnimate, and after much thought, Tsion took the chance to finally fulfill her childhood dream.
Student Animation Journey
Tsion Addisu took the following took the following Feature Animation Workshops at iAnimate:
Tsion's creative process is a testament to the importance of a structured and disciplined approach to animation. Her process is carefully designed to maximize creativity, while also ensuring that her work is of the highest quality. Here is Tsion's process for creating her iAnimate shots:
When collecting references for my shots, I would record myself many times until I get the perfect reference with the right amount of emotion and free flow in my movements.
Using my critical thinking and observational skills, I carefully analyze the body and facial movements in my reference and replicate them in my shot during the blocking process.
While doing this, I add some exaggerations to push the poses. In the spline and polish stages of my process, I get more into the emotions of the character. I try to figure out what would be going on inside the mind of the character and convey that in my shot.
"Based on my instructors' feedback on my work, I have discovered my strengths are being a quick learner and having a specialty in creating expressive facial poses on characters. I have also learned at iAnimate that I can course-correct my animated shots to express bigger emotions and movement in the characters. Since I worked full-time while also taking the iAnimate classes, I have also learned that I can push myself through time constraints and not give up even during the latter part of the animation process. In one of my classes, my instructor, Angie Jones, praised me for overcoming my obstacles and quickly advancing my shot from a refined blocking to a fuller, more expressive polish on my character during the final 2 weeks of the class." Tsion responds to what he learned from iAnimate.
Tsion's Student Reel
Student Spotlight Q&A with Animator Tsion Addisu
iAnimate: What do you think of your Online Animation Instructor(s), and how do they help you?
Tsion: Working full-time at my software engineering job, my instructors have really supported me in my coursework and continued to encourage me as I juggled my classes and my job. Their critiques of my work helped me identify and concentrate on the areas where I needed the most improvement, and they have also helped me grow in brainstorming new ideas to make my shots stand out even more.
Angie Jones taught me to push my creative mindset beyond just the basic mechanics of a character's movement and to dive deep into what the character is thinking in the scene. She taught me to not be afraid to push the boundaries of my characters' poses and to freely express their emotions.
iAnimate: How did iAnimate help you to evolve your animation skills as a character animator?
Tsion: I came to iAnimate with basic knowledge of the animation principles and how to work with the Maya software's tools. My instructors at iAnimate taught me more about the animation process beyond the introductory concepts I learned from my community college. With the knowledge of the Maya tools I received from college, my instructors at iAnimate taught me how the animation industry puts these tools to use in its processes and how to further utilize Maya to create full-body animations. My instructors also revealed the actual production process in the animated film industry and what methods their animators use to create their scenes.
With all this knowledge, iAnimate helped evolve my animation skills as I practiced following and applying the industry's animation process in my own process. I practiced some of the industry's methods as I planned out my shots and expanded them with bigger emotions and movement. iAnimate helped push my animation skills and creativity beyond the boundaries and towards a freer and wider expression of the character's body movements and emotions.
iAnimate: What kind of animator do you consider after taking your student workshop/s?
Tsion: I consider myself a very focused animator geared towards giving emotion and personality to a character while also focusing on the technicalities of the body movements, making sure they help project the state of mind of that character. I also consider myself specialized in creating solid facial expressions as well as interested in creating a unique background story for the character.
iAnimate: What kind of project do you want to work on?
Tsion: I have piqued my interest in character performance, in which I can convey emotion and personality into characters. Considering this, I would like to work on CGI and in-game cutscenes for video game studios such as Activision Blizzard, Epic Games, Square Enix, and Nintendo. I'm also interested in working on character animation and development for animated films by studios such as Dreamworks Animation and Skydance.
Want to learn what Disney, Pixar, and Blizzard do in their animations?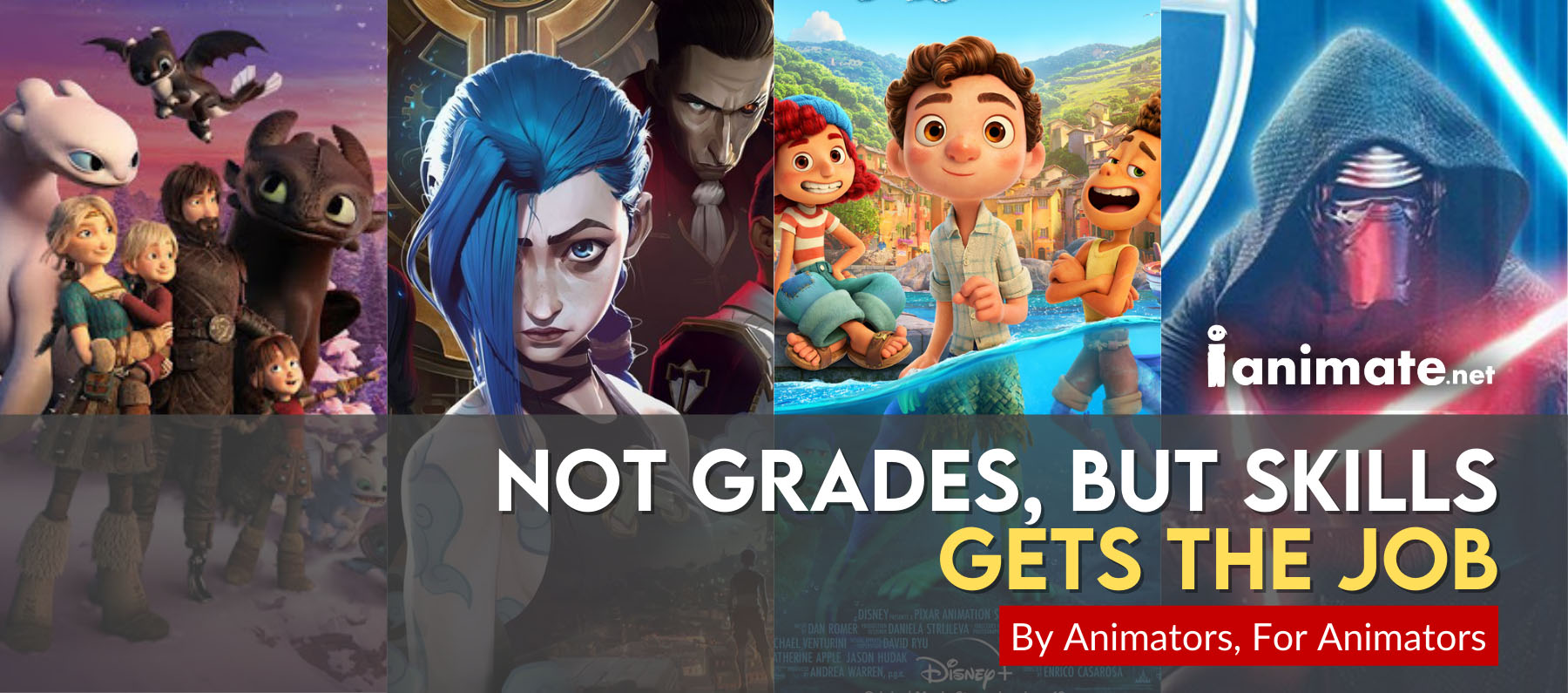 Be mentored by industry professionals from the leading studios in the industry. Start your animation career and get the dream animation job you want! Learn more about iAnimate and the Workshops that are made just for you.