Student Spotlight - Travis Simon
"iAnimate taught me the value of living as a character before diving into animation. There is so much emphasis on preparation before actual animation."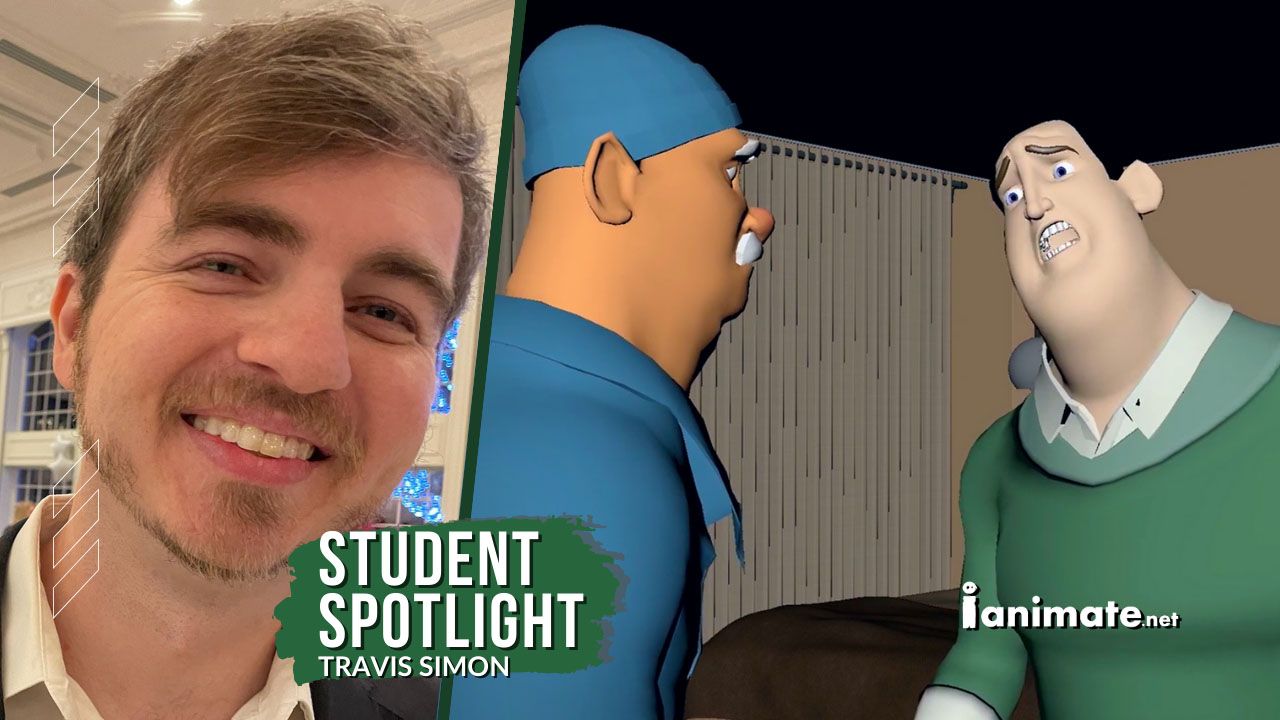 Student Spotlight features Travis Simon, a 2D animator with over 15 years of industry experience working in TV, movies, commercials, and music videos. A few years ago, Travis decided to begin a new journey into 3D by taking classes at iAnimate and he's so glad that he did because learning 3D has been an amazing experience for him. In his 2D work, he has become extremely passionate about animating realistic human emotional acting, as well as intense and accurate bodily physics, and 3D has opened Travis to a whole new perspective on these aspects.
Over the course of his 2D animation career, Travis developed a deep interest in animating human emotional expression. He has always been curious about 3D and he felt that now more than ever was the right time to expand his skill set and dive head-first into the exciting and ever-growing world of 3D. Travis got into a groove with realistic 2D characters, and now he can see just how much further he can push these aspects in 3D, where realism isn't solely involved in realistic character models but also the cartoony ones. Travis finds it exciting that certain aspects of facial acting he brought to his 2D work are already abundantly used in 3D, which made the space feel familiar and accelerated the learning process for him.
Student Animation Journey
Travis Simon took the following Feature Animation and Maya for Animators Workshops at iAnimate:
Travis believes in preparation before going to the software and just animating. He ensures that all details are well-placed. Here are Travis' creative processes in doing his iAnimate assignments:
iAnimate really inspired me to dig deeper into filming myself acting out my scene to use as a reference. Though it's ideal in 2D as well, it has been fascinating to take that real-world anatomical process and translate it into a 3D animated character, then exaggerate or pull back where necessary to ensure the right visual rhythm is achieved. It's also important to animate a 3D character from every angle to ensure accuracy and proper physics/weight distribution, not relying on the chosen camera angle alone.
"iAnimate taught me the value of living as a character before diving into animation. There is so much emphasis on preparation before actual animation. The process starts well before opening Maya and setting keys. This overall process actually ensures the work gets done more efficiently in less time, as you're setting up the foundation of a scene early on.
They also kept our focus on the techniques of the professionals in film, studying what real actors do so that we can translate similar relatable experiences through our characters. There's a lot of attention to detail even before smoothing things out further in the polishing stage. The little things go a long way and are abundantly important in 3D." Travis responds to what he learned from iAnimate.
You can reach Travis Simon via:
Student Spotlight Q&A with Animator Travis Simon
iAnimate: What do you think of your Online Animation Instructor(s), and how do they help you?
Travis: The instructors were outstanding. They didn't solely focus on manual animation techniques in Maya but inspired us to film or find reference material, and to learn deeper aspects of acting techniques from live-action film examples. They made us focus on the roots of the animation tree, the soul of the character, and all the elements that drive 'why' they are exhibiting their emotional response. These things should be of utmost importance in animation, but we can easily lose track of them when in the thick of honing our skills with Maya itself, so that was incredibly valuable to all of our mindsets as students. I would highly recommend iAnimate to anyone who is interested in 3D regardless of age or experience. It was refreshing to be able to learn 3D so many years after graduating from Columbus College of Art & Design, where I learned the basics of 3D previously, though much has changed since I graduated.
iAnimate: How did iAnimate help you to evolve your animation skills as a character animator?
Travis: Filming my own reference and learning from the physical action, applying it to the character's muscular rig, and especially gleaning acting techniques from live-action films has really added to the specificity and detail of my work. And as I have mentioned, keeping my focus on where the character's mindset is, bringing them to life from within.
iAnimate:What kind of animator do you consider after taking your student workshop/s?
Travis: I feel that I am industry ready, and I know that I will continue to learn and grow in a junior role. I recognize that I don't have years of experience in all areas of 3D, however, I feel I will learn very quickly when given the opportunity. For example: through job searches, I've learned a little about how mo-cap cleanup works (pushing/completing captured animation to full impact) and I'm eager to gain experience in that sometime.
Even though 3D has many detailed differences, I'm thankful for what I know through my 2D experience, as all animation shares the same foundational principles.
iAnimate: What kind of project do you want to work on?
Travis: I am super passionate about character acting, so having worked through most of the Feature workshops, I am focused on film, as well as video game cinematics. I want to affirm the audience's belief in the life of my characters, to really interact with their emotional state as spectators, feeling for (and with) the circumstance of the character.
I'm also very interested in continuing with iAnimate to learn the Creature and Game workshops in the near future. I grew up with my mind blown on Jurassic Park, so I'd love to give that Creature workshop a go.
My current professional grasp is on character acting.
Want to learn what Disney, Pixar, and Blizzard do in their animations?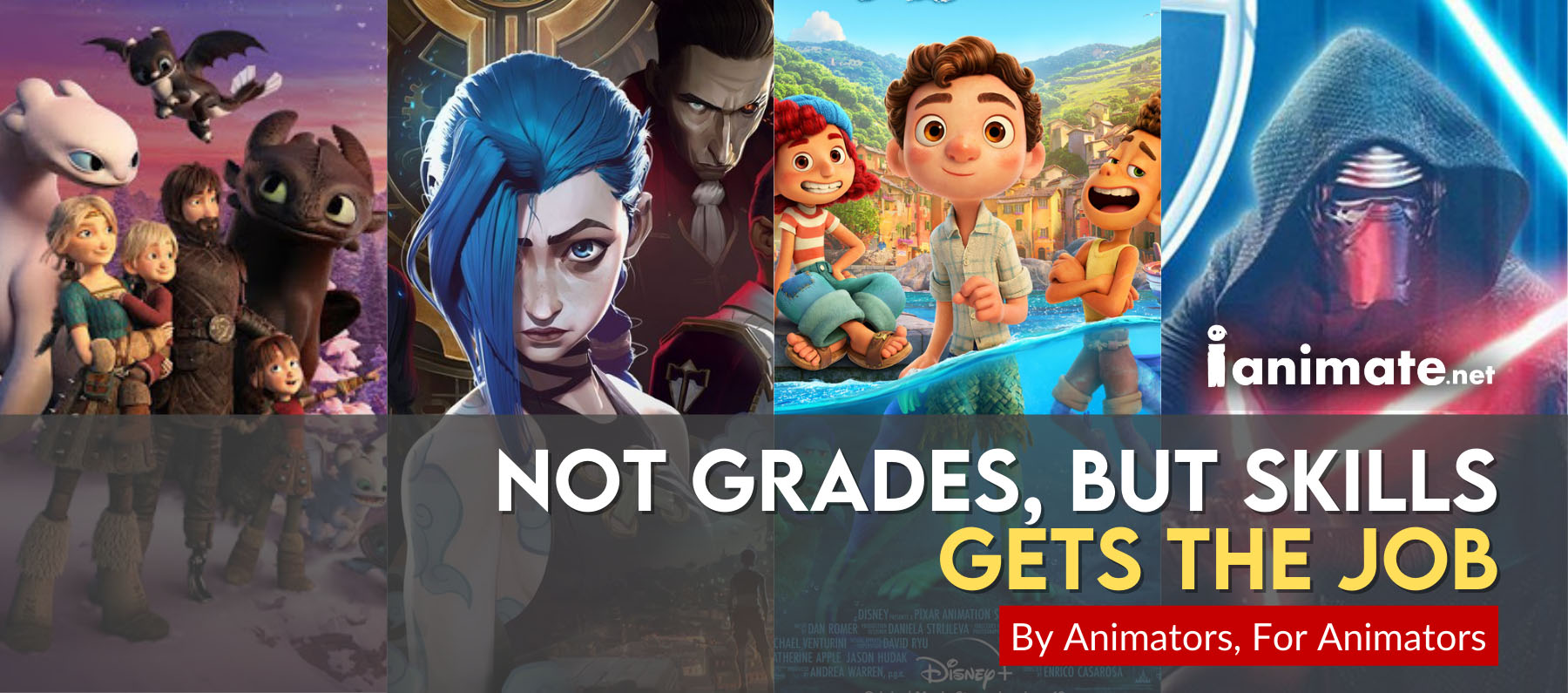 Be mentored by industry professionals from the leading studios in the industry. Start your animation career and get the dream animation job you want! Learn more about iAnimate and the Workshops that are made just for you.