Student Spotlight - Rachel Hansard
"iAnimate helped me learn to trust the process of animation and know that if you keep working at it you will improve your skills."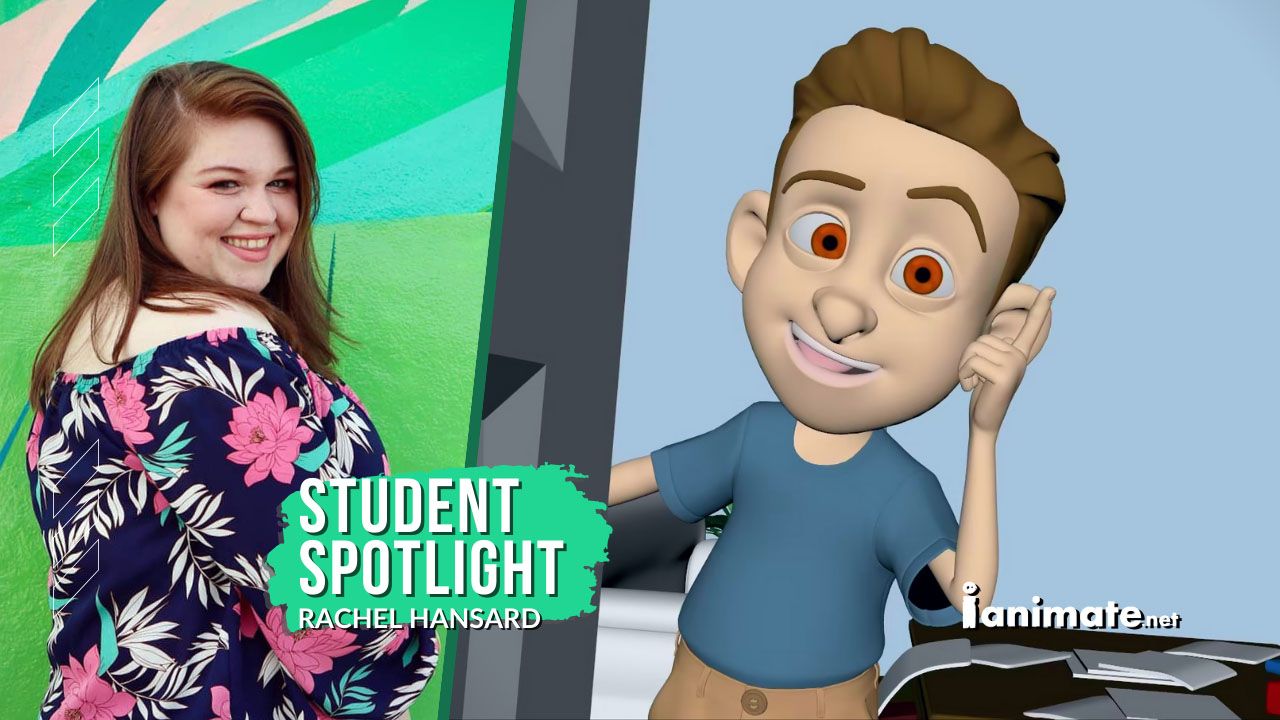 Student Spotlight features Rachel Hansard, a 3D Animator currently working in Montréal Canada at MPC after graduating from SCAD and completing the iAnimate program.
3D Character Animation incorporates everything that she is passionate about- performance, emotion, and storytelling. Her desire is to create stories that impact people's lives and to make a lasting impression on society in a positive way through Animation. Rachel wants to make people feel the work that she creates." To give computer-generated data emotion that makes people feel...I think is a pretty inspiring thing."
After graduating from SCAD in 2019 Rachel went to LA in November to attend the Creative Talent Network (CTN) Expo. She heard so many stories of professional 3D Character Animators taking online animation classes to get to that next level of skill.
While at CTN she met with some great people at the iAnimate booth and was confident that taking workshops would be an excellent next step on her animation journey to grow her craft. Rachel enrolled in January 2020.
Student Animation Journey
Eugene Vasylenko took the following Feature Animation Workshops at iAnimate:
Rachel is a highly skilled animator. Her expertise lies in her ability to effectively reference her acting skills before creating a shot. She is methodical in her approach, beginning each project by carefully planning and strategizing what animation and techniques are required for each shot. She takes the time to understand the specific needs of the project and ensures that her performance aligns with the story. Once the planning and strategy are in place, Rachel proceeds to execute her shots with precision, skill, and confidence. Here are Rachel's creative processes in doing her iAnimate assignments:
One of the first things I do is think through what skills I need to work on or what my reel is missing. From there I pick something that is inspiring for me to animate.
For me using references is a big part of my creative process, I will shoot myself acting out the animation that I want to create, then edit the best takes together then and use that to find my main poses.
My background is in improv/acting so the reference part of my creative process is one of my favorites to do! I really use those skills in my animation. Doing improv helps me better understand how to make great acting choices and how to push the entertainment value of my characters.
Rachel learned a lot from her time at iAnimate. Time management as well as ways to stay motivated. The way the program works is you really have to have the passion, discipline, and motivation to keep working since it's all online. It's you and your mentor working together to get the best results for your shot. She learned about the importance of showing up and putting in the work. The classes and the mentors are fantastic so she definitely wanted to take as much advantage of their time and talent as she could while taking the workshops.
"Another thing I learned was the power of collaboration. At the start of each new class, I made it a point to make a group chat for all the animators in the class. This allowed us to stay connected, ask questions and just be a creative support system while we took the workshops!"
Student Spotlight Q&A with Animator Rachel Hansard
iAnimate: What do you think of your Online Animation Instructor(s), and how do they help you?
Rachel: Mike Walling and Tal Shwarzman were the two Animation Instructors I took and they both were spectacular. Definitely learned so much from both of them. I really grew so much under their mentorship. They both care deeply about the craft of animation and have incredible experiences they leverage to truly help teach Feature Animation. Each week I really looked forward to the workshops to learn and grow from their experience.
Tal has an amazing eye for really great character performances and taught me that you can do so much less movement-wise but actually have the character feel more alive with subtle specific actions. My mentor Mike always used to say "Keep Going!" at the end of his critique and I always found that encouraging and kept me inspired while taking his workshops.
iAnimate: How did iAnimate help you to evolve your animation skills as a character animator?
Rachel: iAnimate was a huge stepping stone to getting my skills ready for the Animation Industry. After receiving my Bachelor of Fine Arts in Animation from SCAD in 2019 I wanted to take my skills to the next level and took 5 iAnimate classes during 2020-2021. Getting 1:1 coaching and mentorship while being around my peers helped me refine my animation skills over the year and a half I took classes. Going to class each week and deepening my knowledge of the animation process while pushing my craft was a great learning experience.
iAnimate: What kind of animator do you consider after taking your student workshop/s?
Rachel: iAnimate helped me learn to trust the process of animation and know that if you keep working at it you will improve your skills. Staying positive is also important, it's all a learning experience, and each day I'm taking small steps to achieve my goals and be the best Animator and Artist I can be.
iAnimate: What kind of project do you want to work on?
Rachel: Getting into Feature animation is a huge goal of mine. My favorite type of animation is subtle acting and character-driven animation. I would love the opportunity to work at a major animation studio one day. I personally enjoy specific acting choices for characters. Exploring the why of how a character feels is one of my favorite things about Character Animation.
Want to learn what Disney, Pixar, and Blizzard do in their animations?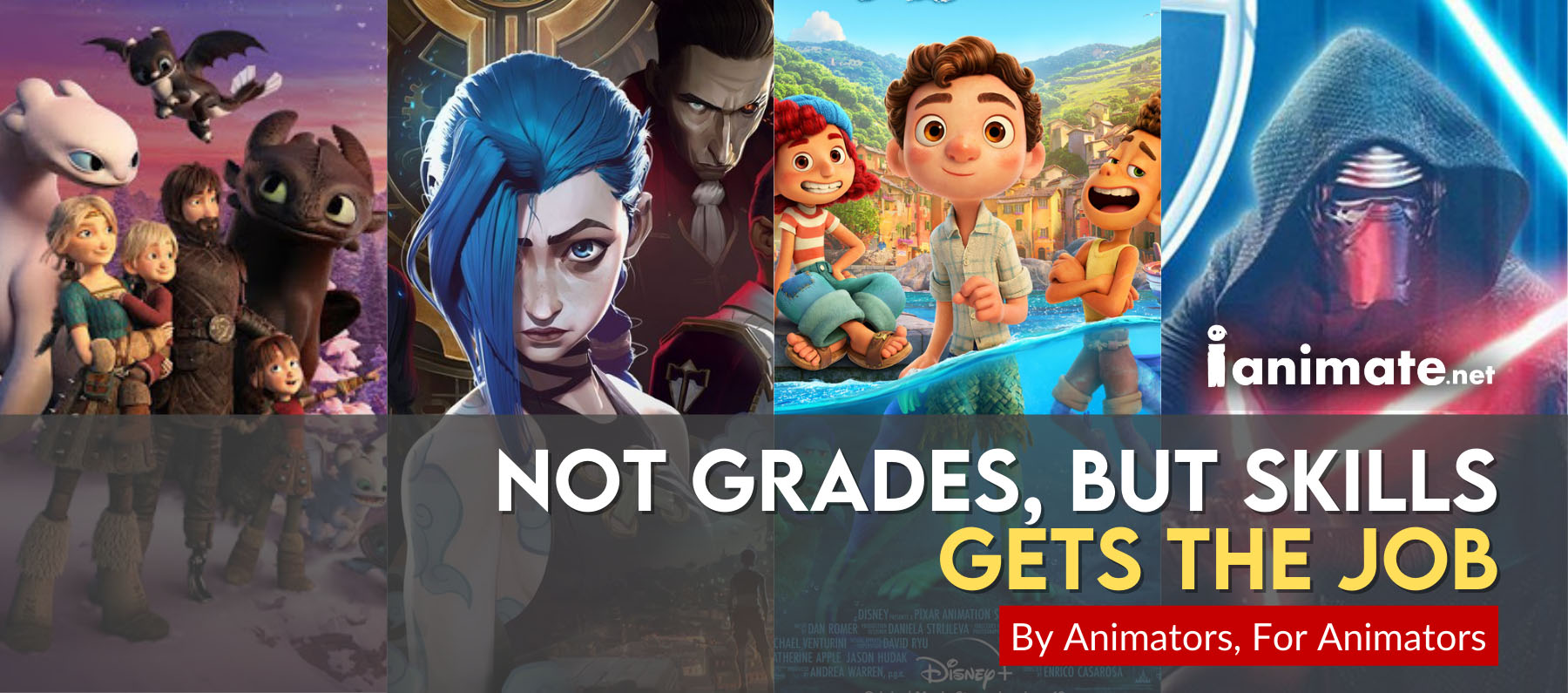 Be mentored by industry professionals from the leading studios in the industry. Start your animation career and get the dream animation job you want! Learn more about iAnimate and the Workshops that are made just for you.