Facial Rig Creation
Students will further learn the rigging principles, pipeline used when creating a character rig and how to build a robust facial rig. The second half of the workshop, the student will continue with facial animation and learn about tools creation possibilities that can be done with Python. The instructor will also talk about plug-ins and automating a riggers workflow.
11 week access to:
Live & Recorded Classes
Extra Lectures by Jason Ryan, CineSite Animation Director.
Feature Rigs
​Who you learn from Matters

---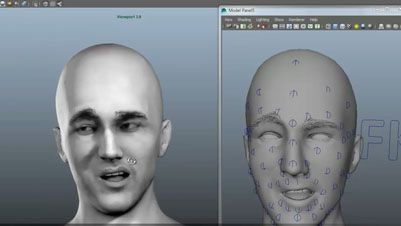 Overview
Concepts and Theory Students will learn the current state of face rigging technology. Key projects highlighting facial rigs will be reviewed. Key concepts such as emotion, communication, and lip sync will be discussed. The FACS system and thee Uncanny Valley and their implications to facial rigging will be explained. Also the differences between types of face rigs for film and games will be covered.
Anatomy of the face and neck. It's mandatory for students to understand the anatomy of a face to rig it correctly. Students will learn the landmarks of the skull, the parts of the face and all the underlying muscles. The muscles of the neck and their connection to the head will also be covered.
Week-by-Week Topic
Week 1 - Concepts and Theory
Week 2 - Anatomy of the face and neck.
Week 3 - Skeleton and Geometry requirements
Week 4 - Skinning the neck, head, and jaw.
Week 5 - The Eyes Joint placement for the aim system
Week 6 - Eyes part two
Week 7 - The FACS system
Week 8 - FACS part 2
Week 9 - Phonemes, and Vizimes
Week 10 - Working with the shapes in the rig
Week 11 - The Interface